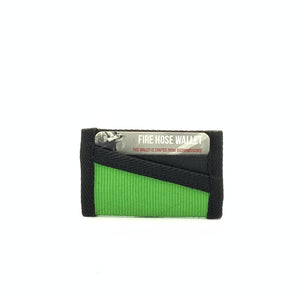 A minimalist front pocket wallet
Decommissioning department: Mixed departments in Alabama
The Ladder 34 front pocket fire hose wallet is a minimalist design allowing you to keep your important items neatly stored and organized. The dual pocket design of this fire hose wallet will accommodate 6-8 of your most important cards and a few folded bills.
The interior was designed to keep your cards secured with a rubber divider
Your wallet may contain unique markings, scuffs, or burns earned through years of firefighting duties
Each wallet includes a hand written card indicating where your wallet was originally used.
Measurements :
2 3/4" Tall, 4 1/2" wide and less than 1/4" thick empty.
Color: Kelly Green