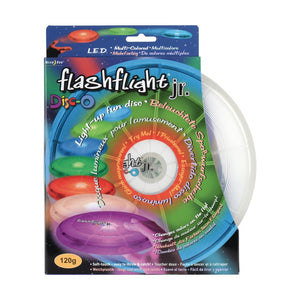 Whether you're looking to play for serious sport or just having fun with friends after dark, this light up LED flying disc in Jr. size will make you smile.
Designed to compete with the highest quality ultimate discs, the Flashflight stands out in a crowd with its bright LED illumination from rim to rim.
Plus, the push button on/off switch and replaceable batteries means endless nights of fun for you and your friends.

Patented fiber-optic array brightly illuminates entire disc
Soft-touch makes disc easy to catch for smaller hands
Diameter: 8.25 in.